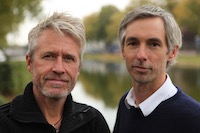 Justice for Sergei
is produced by ICU Documentaries, the company of independent Dutch filmmakers Hans Hermans and Martin Maat. They have been working for Dutch Public Television since 1995. Hans Hermans and Martin Maat have produced acclaimed documentary films such as
Pyongyang Crescendo
and
Sarajevo Revisited
for an international audience.
The directors came across the story of Sergei Magnitsky while researching the 50-minute documentary
Our friend Putin
for the leading Dutch investigative journalism program KRO Reporter. Touched by the horrific ordeal of Mr. Magnitsky, they decided to produce a full documentary on what happened to him after he uncovered the largest tax fraud in Russian history. Justice for Sergei was shot in HD on location in London and Moscow.
A full filmography of
Martin Maat
can be found
here
.
A full filmography of
Hans Hermans
can be found
here
.
While on assignment, Hans regularly writes updates on
Twitter
and he is available through
LinkedIn
.
Our most recent project is the 4-episode documentary series
Varia Americana
. Hermans and Maat have been travelling in the footsteps of famous Dutch statesman Abraham Kuyper who travelled through the United States in 1898. In each episode the directors examine the interfaces between Kuyper's analysis in the past and urgent developments in the present. The first episode aired this year on May 11, at the second channel of Dutch Public Television (NPO2).
Varia America
is a sequel to the 8-episode documentary series
Around the Mediterranean Sea
(Om de Oude Wereldzee). Famous Dutch statesman Abraham Kuyper travelled through 16 countries around the Mediterranean in 1905. Kuyper was fascinated by the rise of Islam and wondered what consequences this might have for Europe.
Other recent projects of ICU Documentaries include the three part documentary series
The Wilders Trial
(Het Proces Wilders), a revealing insiders account of the lawsuit against Dutch politician Mr. Geert Wildes and the documentary series
Kidnapped in…
(Gegijzeld) for Dutch Public Broadcaster IKON. A series of first hand oral history
accounts
of people who have been kidnapped in countries like Yemen, Indonesia, Colombia and Afghanistan.
Crew

Below is a list of crew-members of Justice for Sergei:

Directed by:
Photography:
Sound:
Original music:
Producer Moscow:
Voice of Sergei:
Colourist:
Sound editor:
Artwork:
Webdesign:
Hans Hermans & Martin Maat
Tijn van Neerven
Ton Spruit
Tony Overwater & Maarten Ornstein
Irina Anatsheva
Ruslan Malikov
Ronald van Dieren
Mark Meewis
Annemarije Engelfriet
Marc Selhorst